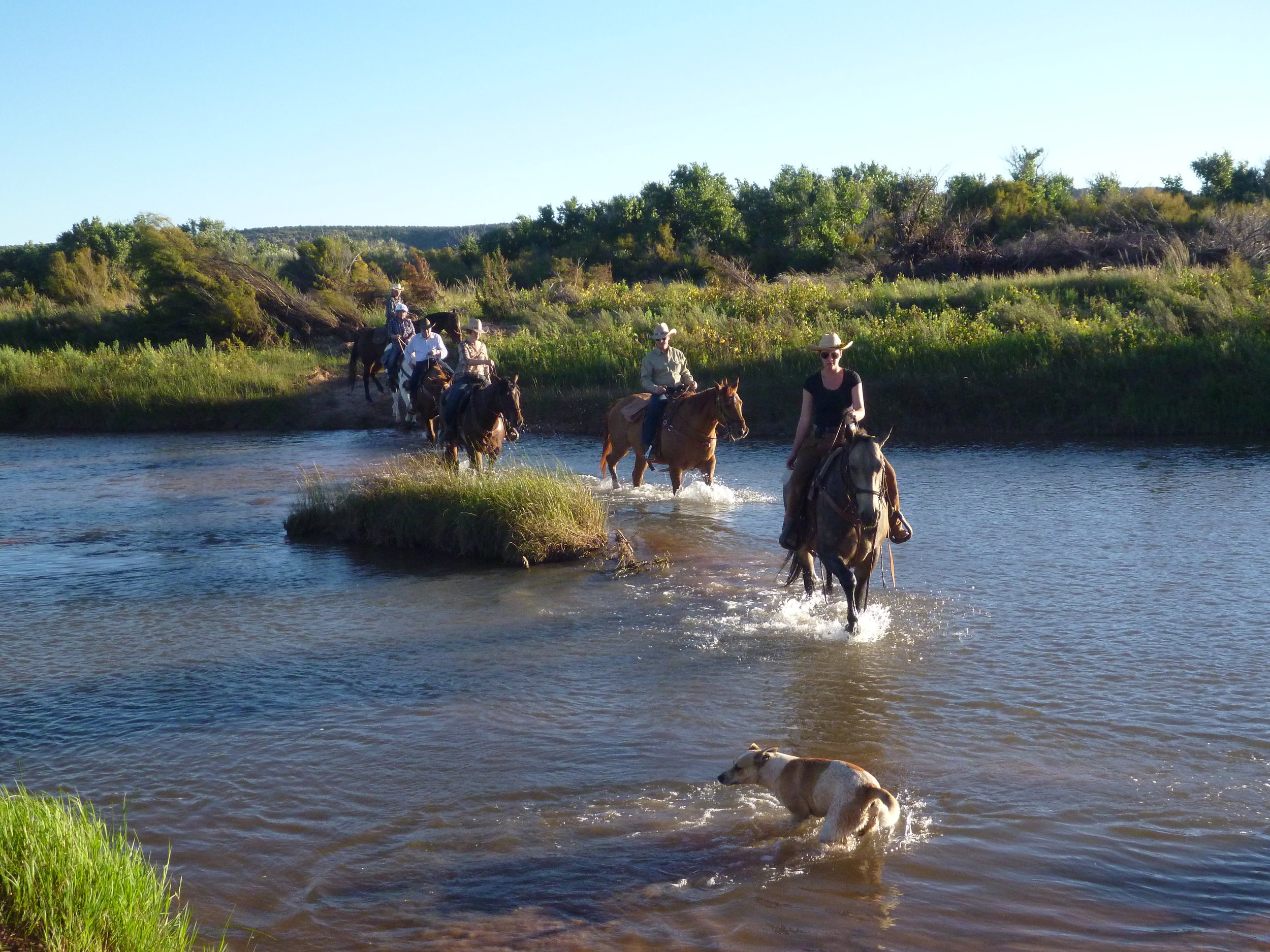 ALMOST EVERYONE HAS THE DREAM OF LIVING LIKE A COWBOY!
Carefree, relaxed, horseback riding, sitting around the campfire and telling stories. Well, these dreams can come true! Treat yourself to a unique place. Meet long-cherished childhood dreams and pay homage to the heyday of the Wild West.
WELCOME!
Breathtaking scenery, 8200 acres of unspoiled land with stunning sunsets as your backdrop. Creek Ranch provides a truly memorable hideaway for once-in-a-lifetime vacation. Our Working Guest Ranch features sweeping views of sun-splashed terrain, red desert landscape filled with huge arroyos and canyons, famous tumble-weeds, panoramic scenery and wildlife. Stay where cowboys and Indians used to fight, feel the spirit and breathe the air of the Wild West.
HORSEBACK RIDING
Our most popular activity is horseback riding. The horses are Quarter Horses, Appaloosas and Paint Horses, that live, accordingly to their natural habitat, in a herd on big pastures. We are very proud of our horses - all good, honest, willing ranch horses. They will give you some wonderful rides into a truly unforgettable country. We know you'll enjoy them, whatever your riding level - novice, advanced, or in-between.
GUESTHOUSE
The ranch house including 6 guestrooms was built in 2012 in the typical Hacienda style of the Southwest, in the adobe architecture of the Native Americans. The house has A/C in the living room as well as in each guest room. The impressive living room with high ceiling and vigas, wooden floor, stove and spectacular paintings of dancing Native Americans and buffalos reflect the charm of the Southwest. Two great porches invite you to relax and enjoy the breathtaking view over the Pecos River from the back porch.
If you already have dreamed to experience the Wild West on a Working Guest Ranch, then your dream can come true at Creek Ranch. We are looking forward to meeting you! Only a few Guest Ranches are in a place with so much history!